Works of Mercy Performed Here Daily.
---
Like any organization dedicated to improving the lives of the disenfranchised, the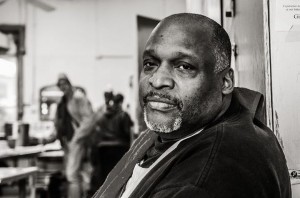 homeless and the hungry, Saint Joe's needs volunteers who are willing to help prepare and serve food, assist our guests, staff our shelter and pitch in where needed.
Join the Catholic Worker community at St. Joe's House of Hospitality
We're an ecumenical, nonviolent, consensus community that shares living space and decision making in a house that has operated for over 75 years. Each of us brings something unique to the table; what we all share is an appreciation of the Catholic Worker movement that allows us to define ourselves as Catholic Workers.
Newcomers are welcome here– that's probably why you're reading this! (And yes, if you've lived in other CWs or intentional communities, of course you're welcome as well).
While there is always more for all of us to learn, potential community members are advised to have some understanding of the Catholic Worker movement's aims and means, origin, newspapers, founders, and role in the 21st century. Even if this has come through one's own research rather than participation or conversation, it's important. Every community is autonomous, and Saint Joe's is not an orthodox place, but the CW is more than Saint Joe's.
"They aren't Catholic and they don't work!" goes the joke. The first part is sometimes true, the second part never is. We work on our building, we work on our communication, and we work on our relationships. It's a constant effort.
Generally the best first step is an email or phone call introducing yourself, giving yourself and Saint Joe's a chance to connect and  to ask clarifying questions that help determine if Saint Joe's seems like a good match. Things to think about might be: what draws you to work with the poor? To live with others in community? To participate in activism or protest? What is your understanding of anarchism, feminism, solidarity, or nonviolent resistance to evil, and what role does your religion have in it all? Are you comfortable with religious expressions that are conservative, moderate, and liberal?
If you're interested in being a Catholic Worker at St. Joseph's House of Hospitality, or if you're just curious about the place, email Tim at
sigristtim@gmail.com or call him at 585-314-1962.
Come and help us feed the hungry.
We need kitchen, support staff and more to help us with our daily programs, which are so important to so many.
Send an email to Jasmin, our House Coordinator, at
jreggler@saintjoeshouse.org or call the house* at (585) 232-3262 to volunteer.
Saint Joe's Homeless Shelter Volunteers
Our Homeless Shelter Program operates from Mid-October through Mid-April. We need people who can staff the Night Shelter, welcome guests, and provide assistance. To volunteer for the Homeless Shelter, email James at
Rochestercatholicworker@gmail.com or call the house* at (585) 232-3262.
Take a Break for a Good Cause. Sign up for a Saint Joe's School-Break Internship.
Saint Joe's is seeking mature students who are willing to dedicate a vacation week or two to help us serve our guests during their Winter, Spring or Summer Breaks (June-August).
Learn more about Saint Joe's House of Hospitality. To apply for an intern position email Tim at
sigristtim@gmail.com or call him at 585-314-1962.
* The best time to call the house is between 9 am and 12:30 pm during the workweek, when the kitchen is full of people!