By James Murphy
Going through pictures on my phone recently, I came across images of a twelve-year-old girl, Esterhazy, and her five-year-old brother, Junior, that I took in Haiti last year. Their father has been in prison in Haiti since July 5, 2016. Francius Dauphin Estimable (Johnny), was arrested and charged with arson. I believe that his arrest, and the fact that he is still being held months later, are politically motivated. Since his imprisonment he has lost weight and has developed a serious vision problem. I don't know if his children are aware of these details, and I can't imagine what they are going through. Christmas is around the corner and Dad will not be with them to celebrate. What other holidays, birthdays and other milestones in their lives he has missed I can only guess.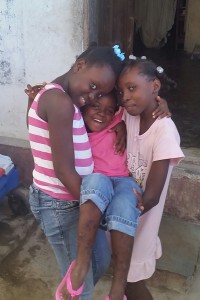 Esterhazy on the left, playing with friends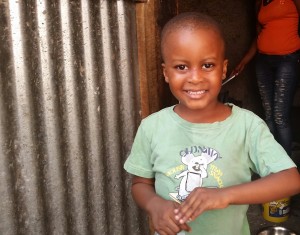 Junior at home
Johnny has deep ties to the Rochester area. He worked to create a sister city program with Honeoye Falls, has hosted groups from the Rochester Institute of Technology and was instrumental in helping St. Joseph's House of Hospitality open a sister Catholic Worker, Pen ak Pwason (Fishes and Loaves), in his hometown of Borgne, Haiti. This Catholic Worker feeds one-hundred elderlies four meals a week in a country with no social safety net. Johnny also created Foundation Dauphin, which helps seventy-five poor children attend school, supports teachers, operates a mobile library, and provides free after school programs in computers, band, and sewing. A couple of summers ago, Johnny came and celebrated Mass at St. Joseph's House of Hospitality and we shared a meal afterwards. I remember it clearly because, by chance, there were five people at the Mass and meal who spoke French fluently, so communication was not a problem. Only the Holy Spirit could have put that many french speakers at the table that night.
In addition to cultivating relationships internationally to better his community, Johnny also worked locally to improve the life of the residents of his hometown. Mr. Estimable served his community as assistant mayor from 2007-2011 at the request of rural community and farmers' organizations. He helped bring paved roads to town and revitalized the beach area. He also provided extensive support to earthquake survivors and spearheaded a cholera prevention program. His term ended in 2011 and a new mayor was appointed without local elections being held. He peacefully turned the office and paperwork over to the new mayor without resistance and awaited the next round of elections.
Local elections were held in October 2015 and he ran for Mayor under the Verite (Truth) party. Although initial local vote counts pointed to the Verite party's victory for both mayor and depute, the official results from Port-au-Prince showed they were both defeated. I was there during the elections and remember the elation of the community when his victory seemed imminent. I left a week after the elections sure that his victory, by a landslide, would be upheld. In our own country we have become increasingly distrustful of election results, but it still seems impossible to negate landslide victories. Not so in Haiti, and this result demonstrates the depths of corruption that exist in Haiti. In my opinion, Johnny sits in a prison because of what he did after the elections: He and the dupute candidate challenged the results through the courts. The depute's election results were overturned, but Johnny lost his case on a technicality.
He was discouraged after losing the court case, but decided to move on by starting a business and continuing his work with children instead of politics. While he was letting go of politics, his opponents must have felt he was still a threat. The new mayor was installed on July 1, 2016. That same night, the mayor's office was set on fire and shortly afterwards, another building burned on the outskirts of Borgne. Jonny was eventually accused of both and was arrested and imprisoned on July 5, 2016. Since his arrest, Estimable has gone through all the court proceedings on the first arson charge. He brought in witnesses and video showing he was in Port-au-Prince when the building burned. We thought he would be released when suddenly he was accused of burning down a different building outside of Borgne. His lawyers then brought in different witnesses who attested that he was in fact in Cap Haitien on that day. All of the court proceedings finished by the end of August, but the judge has still not judged in the case. The judge was on vacation all of September and Johnny has not been called before the bench since then. Justice, it seems, is permanently on vacation in Haiti. Because of this, his young children will not spend Christmas with their father and a community loses a member that has the ability and connections to improve their lives.
Sarah Brownell, a professor at RIT, and a long time Catholic Worker, has known and worked with Johnny for years. He is her daughter's godfather. She has worked tirelessly over these past few months to secure his freedom. She has called or written every organization and person she can think of. It's gotten to the point that when she reaches out to new contacts, they have already heard of his case. Despite all this, Johnny still sits in prison as 2017 approaches.
A Catholic Worker delegation, led by Martha Hennessy, are travelling to Haiti in the coming weeks to make a plea for his freedom. In a few days, Christians the world over will celebrate the birth of Christ. Soon after Jesus was born, the Holy Family was on the run from Herod's edict to kill all children under the age of two in Bethlehem. The Holy Family found safety in Egypt. Johnny and his family have not been so fortunate and his family suffered through the Advent season. Please pray for Johnny, Esterhazy, Junior and all political prisoners and their families the world over.