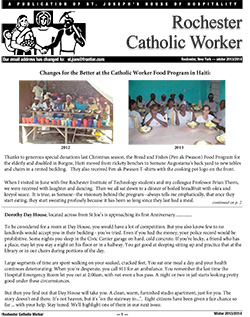 Saint Joe's House of Hospitality has a new email address:
st.joes@frontier.com

Please update your contacts list.

Saint Joseph's House of Hospitality is located in Rochester, New York. It is a Rochester Catholic Worker community which provides food, clothing, shelter and spiritually-centered care to its guests.

We depend on our community for all of our resources.
Click here for our donations page. Every little bit makes a big difference for our guests.
We share a firm belief in the God-given dignity of every human person; and we are committed to nonviolence, voluntary poverty, and the Works of Mercy as a way of life.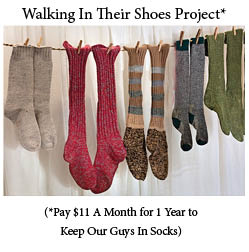 Attend Sunday Mass at Saint Joe's on South Avenue
All are welcome to attend Rev. Chava Redonnet's Mass every Sunday at 11 AM at Saint Joe's House of Hospitality, 402 South Avenue. Experience first hand the new Oscar Romero Church, an inclusive church in the Catholic Tradition. Drivers needed for migrant outreach project. Tutors needed for English language skills classes. Email Chava to help.
---
Looking for Great Bread Delivered Weekly?

Click Here to become a member of our Community Supported Bakery (CSB) and receive a loaf of organic bread per week for ten weeks. Treat yourself and a friend.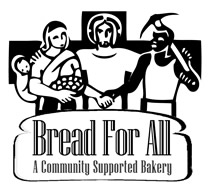 Ask about our bicycle delivery service for neighborhood customers. We also need bakery volunteers to help on Saturdays, Mondays and Thursdays.
---
Volunteers Needed at Saint Joe's.

You Can Become a Coordinator of St. Joe's Community-Supported Bakery.
Find Out How.
To volunteer at Saint Joe's, review our rewarding opportunities on our Volunteer page.

We need people who can volunteer their time to serve one-on-one with guests who are goal-oriented and committed to creating a better, happier and more collaborative community. Send us an email with your contact information.

Thanks to all who supported the Dorothy Day House Indiegogo campaign. We collected over $375.00.

Learn How You Can Become a Catholic Worker!
Sign up for an internship program. View video comments from volunteers who helped us serve our guests in 2009.
The St. Fiacre CSA is still active. For information regarding the St. Fiacre Microfarm, click here.