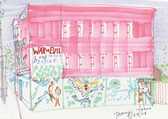 Mailing Address:
Saint Joseph's House of Hospitality
P.O. Box 31049
Rochester, NY 14603

Street Address:
402 South Avenue, Rochester, NY 14620

Phone: 585-232-3262

E-mail Address: cathwork@frontiernet.net

Web URL: www.saintjoeshouse.org


To volunteer, review our rewarding opportunities on our Volunteer page. To help us financially, please visit our Donation page. For more information, please call 232-3262 and ask for Tom Malthaner.