Helping the Community of Borgne, Haiti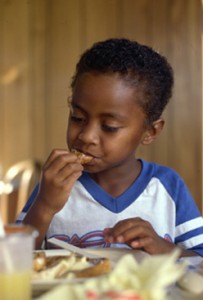 Click Here to View New York Times Journalist, Nicholas Kristof's Article and Video about S.O.I.L. in Haiti.
Through the Haiti-based efforts of Sarah Brownell and Kevin Foos, Saint Joe's advocacy efforts extend beyond the Greater Rochester Community. Sarah and Kevin are members of the Saint Joseph's House of Hospitality community who established the Borgne Foundation in Haiti. The social services organization provides nourishment and educational opportunities to between 50 and 75 impoverished children and elderly/disabled adults in Borgne, Haiti.
The Borgne Foundation is also working to stimulate local agricultural production to lessen the impact of the global food crisis on the poor of Borgne through the activities of Sustainable Organic Integrated Livelihoods (SOIL). The non-profit organization is dedicated to protecting soil resources, empowering communities and turning wastes into resources in Haiti through transformation of both disempowered people and discarded materials. Further support for the efforts of the dedicated staff of the Borgne Foundation are welcomed and much needed. For more information, contact Sarah Brownell and Kevin Foos.