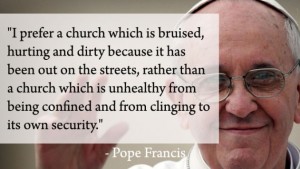 Two Catholic Workers and two shelter guests (they volunteered) have set up a temporary camp site we are calling the "Pope Francis Field Hospital" at St. Mary's Catholic Church (Manhattan Sq. Park).  We are camping here because St. Joseph's House shelter is beyond capacity and is inhumane and unsafe for our guests, volunteers and staff.  Before taking this unconventional action, we tried everything in our power to place folks in other area shelters.  As has been the case all last week, we were unsuccessful in finding beds for all.  Every time we called 211 this weekend and last week, we were told that folks can't be place because they have been sanctioned by Monroe County social services, and there are no beds available. St. Joe's opened two weeks ago and we have been at capacity or more since opening day.  Last week was particularly hard. On some nights we had as many as ten folks in need of placement, and were only able to find open beds for three.   Night after night we have let unplaced people stay, but our numbers are becoming unsafe.  We need more safe places for folks in our community in need of shelter and sanctuary.  As cold weather approaches, we are asking Rochester's area churches to open their doors and operate as field hospitals as called for by Pope Francis.
Pope Francis has said:
"The thing the church needs most today is the ability to heal wounds and to warm the hearts of the faithful; it needs nearness, proximity. I see the church as a field hospital after battle. It is useless to ask a seriously injured person if he has high cholesterol and about the level of his blood sugars! You have to heal his wounds. Then we can talk about everything else. Heal the wounds, heal the wounds. … And you have to start from the ground up."
We are camping outside St. Mary's to call attention to the fact that there is a homelessness crisis in Rochester and that a suffering population is being ignored and left without shelter.
We are here to remind Rochester's churches of the sentiment expressed by Pope Francis, that the Church is called to be a field hospital, to exist in proximity to the injured as an agent of healing, and to "start from the ground up."
We are calling on the churches of Rochester to show hospitality, love, and mercy by opening their doors to the homeless, the undocumented and all people on the margins of society; children of God who have nowhere else to go.
This "Pope Francis Field Hospital" Mobile unit will be at St. Mary's tonight…but we plan on camping at other Rochester churches when we are unable to place folks in our shelter.
Catholic Workers and guests will attend 8:00 AM Mass at Blessed Sacrament and will break down the camp following the celebration.