Hennessy, Kate. Dorothy Day: The World Will be Saved by Beauty. New York: Scribner, 2017.  Reviewed by Bob Reiser, S.J., McQuaid Jesuit.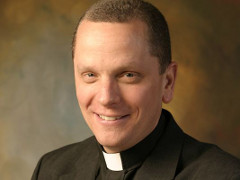 This past summer, in a hurried attempt to get to my annual retreat on time, I quickly grabbed the recent biography of Dorothy Day written by her youngest granddaughter Kate Hennessy entitled, Dorothy Day: The World Will Be Saved By Beauty. While not necessarily evident at first, the biography developed into a meaningful retreat companion, helping me discover something about Dorothy Day and the journey to God.
Throughout her life Dorothy Day experienced the deep and painful tensions that often characterize our human experience, and her granddaughter shares them with fervid honesty. While not always easy to read, the biography is a "witness" to a real person's search for God in both the aspirations as well as in the failures of love. In sharing her grandmother's story as she does, Hennessy remains faithful to her grandmother's "long loneliness" while at the same time reveals a "beauty" of faith that places Dorothy Day, according to Pope Francis, among the company of great Americans.
Hennessy's biography begins with an account of her grandmother's immersion in the unconventional Bohemian lifestyle of the early twentieth century. Colored by hard living, Day's search for meaning took her through the streets of Greenwich Village in the company of figures such as Eugene O'Neill. Her journey led her to the women's suffragist movement, and into a cold jail cell where she was confronted by life threatening violence and hunger. At the same time, however, she also found herself drawn at odd hours into quiet churches for contemplative respites, to the mere "tolerance" of her friends.
Her journey also took her from the heights of romantic relationships to the heartaches of loves lost. Hennessy courageously tells the story of a sexual dalliance that ended with an abortion and a civil marriage that dissolved into divorce. She shares the story of Forster Batterham, Dorothy's true love that in the end could not survive her religious inclinations and his anarchist bents. Yet in spite of all this, or better because of it, Dorothy Day ultimately found herself in a profound moment of conversion at a hunger march in Washington, DC, and in a fortuitous meeting with Peter Maurin on a doorstep in New York.
The Catholic Worker movement, like the rest of her life, was also colored by contradiction. While she was interested in writing for and editing the Catholic Worker newspaper and giving speeches that supported the effort, Peter Maurin penned "Easy Essays," focused on the houses and farms, and cherished roundtable discussions and "clarity of thought."  In the Catholic Worker movement, Dorothy Day struggled with the conflicts of an institutional church, the tedium of serving the poor, frustrations with younger volunteers, and the surrender to advancing years.  Yet, in the midst of it all, the Catholic Worker moved forward.
In many ways, Dorothy Day's vocation was incompatible with her role as a mother.  While Hennessy develops beautiful images of a mother and daughter enjoying a seaside cottage in Staten Island, she also reports how Tamar was shuttled from school to school, from caretaker to caretaker. Dorothy Day's travel schedule and her commitment to those who came to her door for care, often times competed with the needs of her daughter. In addition, Dorothy Day's faith was so devout and unbending that Tamar and her children eventually left the church.  Yet, even though their relationship was so often rife with tension, it was also characterized by forgiveness and dependence on one another, and they were close to the end.
Dorothy Day has been quoted as saying, "Don't call me a saint, I don't want to be dismissed that easily."  Kate Hennessy refuses to dismiss her grandmother's life. Rather, she lays it bare, and in so doing reveals a journey of faith forged deep within the complexities of life, and in those around her. It ultimately encouraged me, on my retreat and beyond, to follow my own authentic pathway to God. After all, isn't helping others on their journeys of faith what being a Saint is really all about?