In celebration of the Diocese of Rochester's Year of the Eucharist
Roundtable Discussion of Dorothy Day's writings on the Eucharist
Friday, September 29th
Mass: 5:30PM, Simple meal following celebration
Roundtable Discussion starts at 7:00 PM
St. Joseph's House of Hospitality (402 South Ave)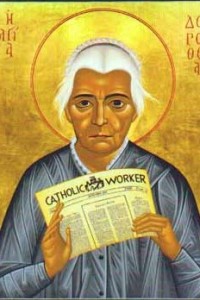 Please join St. Joseph's House of Hospitality and Avanti! for Mass, a simple meal and a roundtable discussion. Our discussion is inspired by Bishop Matano's recent letter about the Eucharist, where Catholic's are encouraged to more deeply understand "the source and summit of the Catholic faith." Led by Avanti! members Elizabeth and Mary PIetropaoli, the discussion will draw from selected writings by Dorothy Day on the Eucharist. All are welcome!
About Avanti! (Italian for Go Forth!) A new local group dedicated to promoting Catholic Social Teaching through conversation, prayer, and action. Avanti! is inspired by the writings of St John Paul II, Pope Benedict XVI, and Pope Francis, especially Pope Francis'  exhortation, The Joy of the Gospel, where we are called  to "go forth" and serve through word and deed. Avanti! and St. Joseph's House are planning future events in October and November, inspired by Pope Francis' June letter declaring November 19th the World Day of Solidarity with the Poor.
About the Roundtable Speakers: Elizabeth Pietropaoli is beginning her 14th year in high school education, and has a BA and Master's Degrees in theology. Mary Catherine Pietropaoli holds a BA from Providence College and is beginning her seventh year in education.  Sister Grace Miller, from the House of Mercy, will also share her thoughts on the Eucharist.